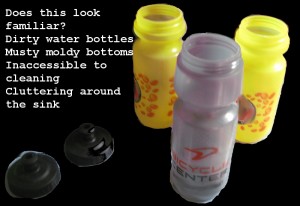 This picture was taken yesterday by my sink. This is what it looks like all the time. Multiple water bottles, drying off, remaining gunky. Well, hell. There is a product that solves this issue. The Clean Bottle. The name says it all. These water bottles can actually be CLEANED.
How does it work, you ask? THE BOTTOM SCREWS OFF! Therefore, no more nasty icky moldy water bottle bottom that you just can't reach. Viva!
Also works in the dishwasher. I always feel like a FAIL when I put a water bottle in the dishwasher because really? It can't clean all up in there. The steam just gets caught in the bottom, resulting in more soggy bottom.
I took the Clean Bottle on a date on my bike and around town in the car and guzzled from it often. A few notes:
1. Does require an extra tug to get the nozzle open all the way
2. The bottle is very firm/high quality. Not easily squeezable like run of the mill water bottles
3. Top of bottle is not interchangeable with run of the mill water bottles, so don't lose the top
4. I like that it is clear – then you can see which liquid you have in there (ie reaching for the water vs. electrolyte bottle)
And of course, you can't have a product called Clean Bottle without being involved in some kind of green-conscious efforts. Following text stolen from the website:
The Clean Bottle is made with 100% non-toxic, BPA-free plastics, making it safe to use over and over. And 10% of all Clean Bottleâ"¢ profits are donated to eco and cycling friendly charities that you vote for.
I was super blessed to receive two water bottles for this review from Clean Bottle. One for me to review and another to give away to a reader!! I will have a separate post with details on Saturday, July 3rd with details on how to win a Clean Bottle from ThrownChain.com (Hint: You'll need to be a fan of our Facebook page).
Want to learn more about this product, or buy one? Check out CleanBottle.com. I'd also like to mention the kitten in the picture is sitting right next to me as I type this, purring. Yay for kittens and water bottles that can be gunk free.